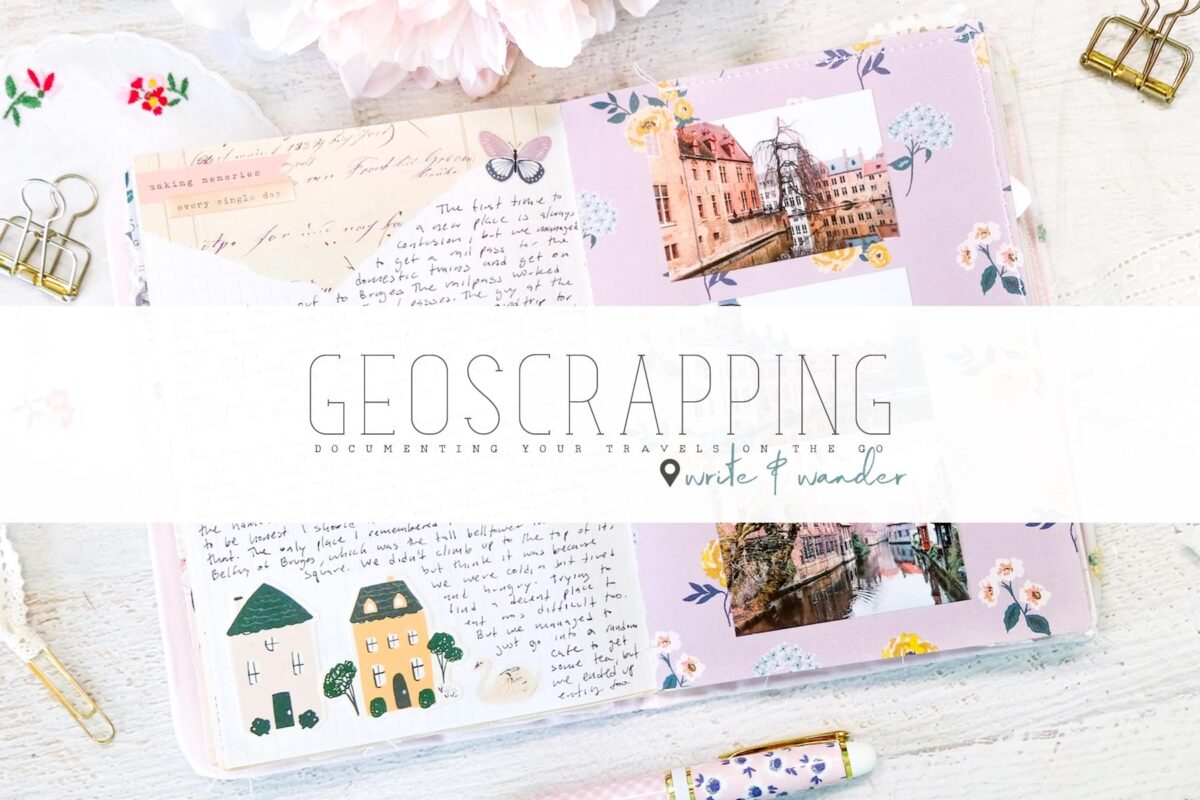 Learn to create beautiful and thoughtful travel journals while documenting your travels on the go.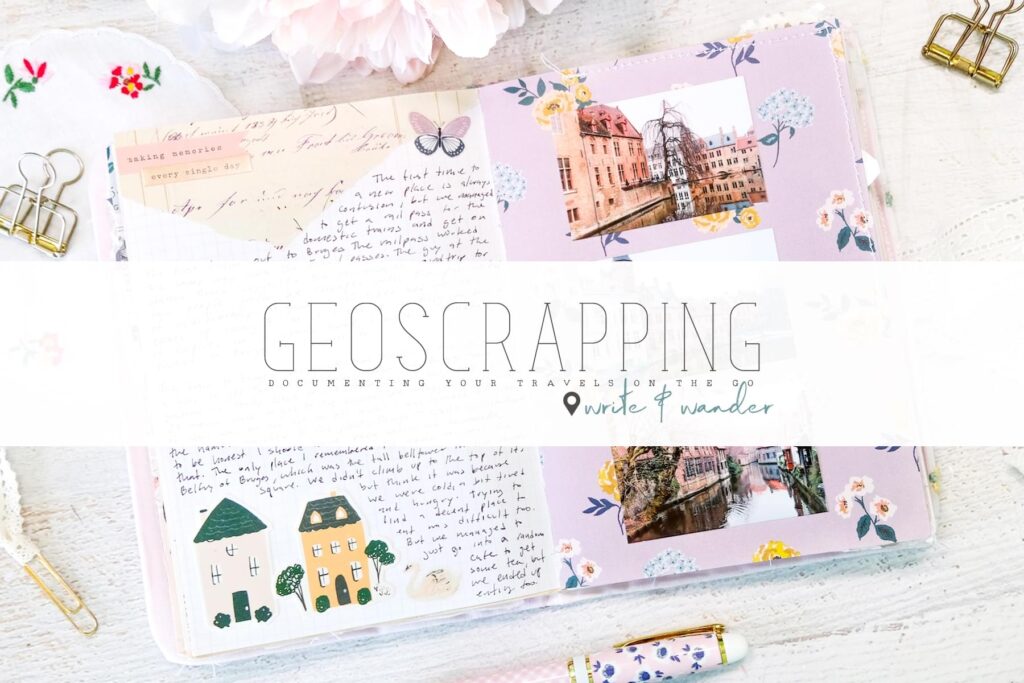 Ready to dive into the world of Geoscrapping?
If you are, sign up today!
This is a self-paced online class with immediate lifetime access.
Geoscrapping is my little travel journaling class where I share all of the tips and tricks I've discovered while documenting on the go. In this class you will learn how to make your very own junk journal–my favorite type of travel journal–and how to utilize and customize it to your own journaling needs. You will learn not only how to make your own journal, but how to create your own signatures with pockets and tuck spots to keep all the little bits you'll collect during your travels.
I will share with you ways in which to prep your journal pages beforehand as well as how to create your very own travel scrapbook kit, with all of the supplies you'll need to take with you to scrap on the go. We will discuss the importance of minimizing unnecessary supplies by figuring out what to take and what to leave home. I will share tips on how to write detailed and compelling journals without spending too much time writing, as well as share ways to add your photos and bits of ephemera to your pages as you journal.
Whether you're a traveler who would like to begin documenting your journeys in a scrapbook, a seasoned travel journaler who's looking to be more creative with your journals, or an everyday scrapbooker who wants to travel journal without taking too much stuff and spending too much time scrapping, this is the class for you!
Imagine coming home from an amazing trip with a scrapbook full of memories already done…
A private course area with:
☆ 14 lessons on creating your travel journal from start to finish
☆ 25 process videos
☆ 4 digital downloads
☆ 10+ Hours of content
Plus six detailed examples from my own personal travel journals to inspire you as well.
Hello. I'm Tiffany Julia. I'm an artist living in New York City with an absolute passion for documenting my life. I share my creations and inspirations through art, photographs, video, and journaling. I invite you to embark with me as I go on an inner excavation of self-exploration and personal growth—a heart journey I call a gentle unfurling. 
I have an unrestrained passion for many things and I often find myself longing for something greater than life. My hope is to inspire you to explore, create, grow, and share your story in a meaningful way. I'm so glad you are here.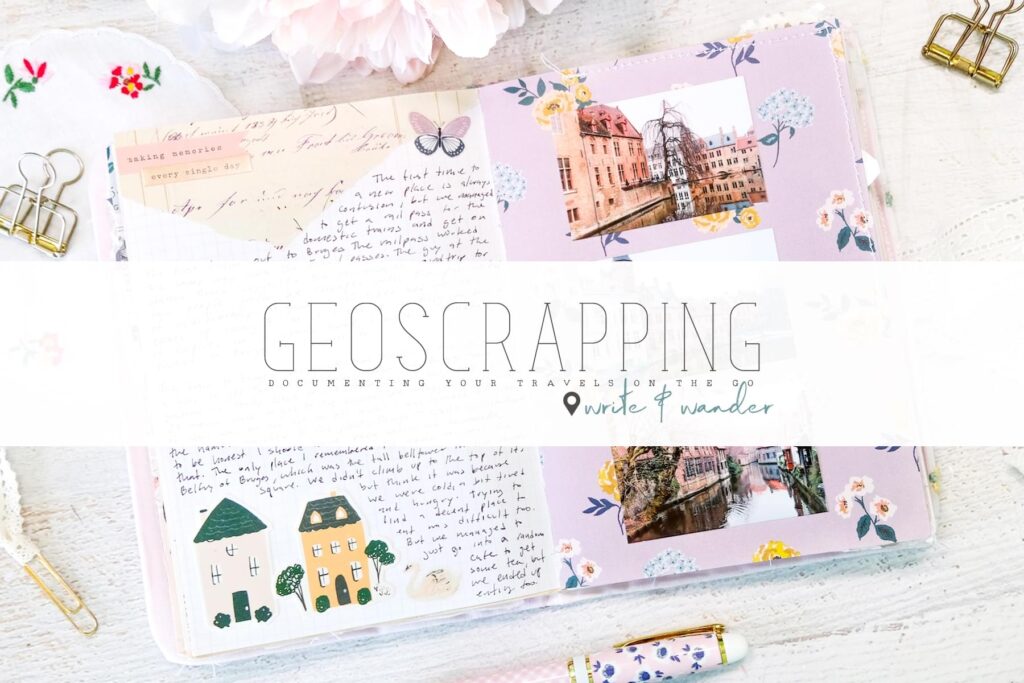 Ready to dive into the world of Geoscrapping?
If you are, sign up today!
This is a self-paced online class with immediate lifetime access.
I'VE NEVER JOURNALED BEFORE, IS THIS COURSE FOR ME?
This course is for all types of journalers–beginners, intermediates, and advanced. It is however a jumpstart course on how to create my style of junk journal and keep a travel journal while on the go. 
WHAT SUPPLIES DO I NEED FOR THE COURSE?
There will be an entire lesson on gathering supplies. But basic supplies needed for this course are: a journal, a pen, and your travel photos and ephemera.
In the course I show you how to create your own junk journal. If you do choose to create the journal, you'll need: fabric, a sewing machine (or needle and thread), an assortment of papers, a pen, and your travel photos and ephemera.
WHERE CAN I ACCESS THE COURSE?
After payment, the course will be added to your account dashboard under Courses.
You will also receive an email detailing how to access the course content from your My Account dashboard.
The entire course is available on the site.
AM I GOING TO NEED A SEWING MACHINE?
Yes. We will be using a sewing machine to create our fabric junk journals. While you can do the stitching by hand, it will be easier if you had a machine on hand.
HOW LONG DO I HAVE ACCESS TO THE COURSE?
Once enrolled, you have immediate access to the course content forever.
The course is broken down into 14 sequential lessons, plus 6 examples of my travel journals for inspiration.
This is a self-paced class, meaning once you have access to the course contents, you may begin and work on the class at whatever time, in whatever pace suits you.
WHAT IS YOUR REFUND POLICY?
Due to their digital nature, there are no refunds on any of my ecourses or ebooks.