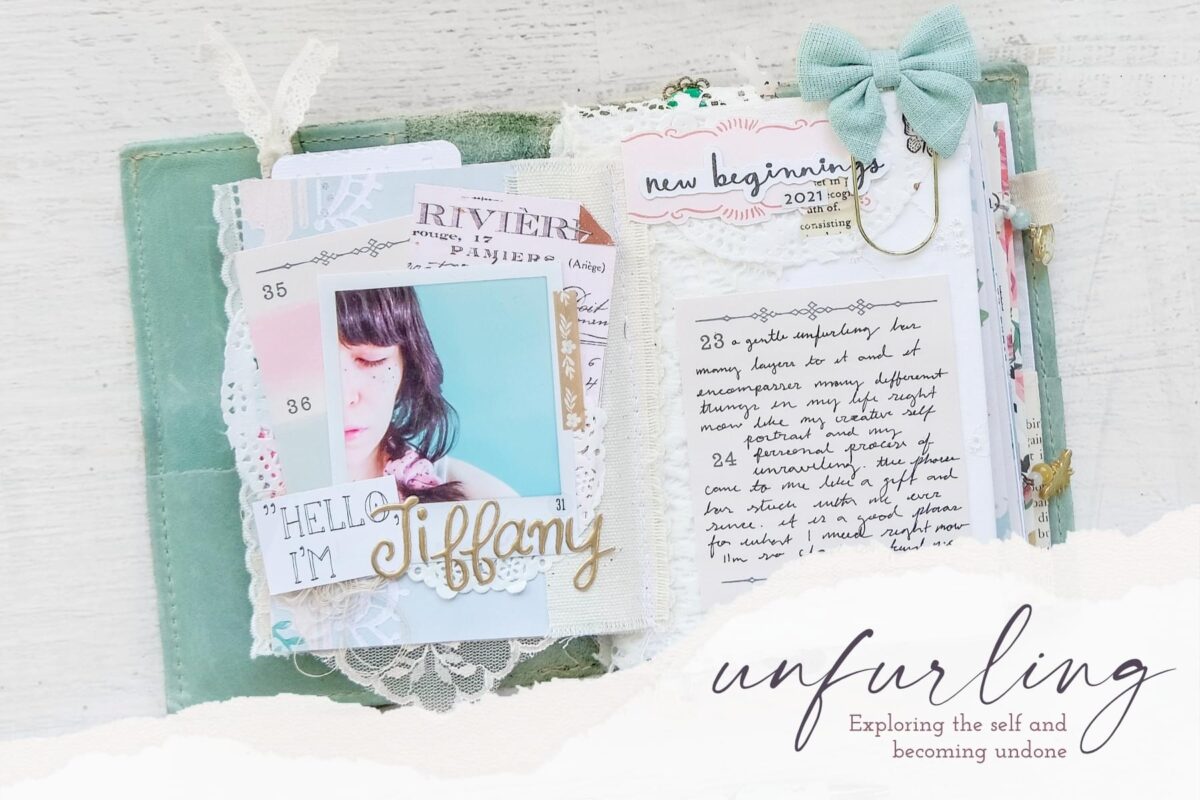 CREATIVE JOURNALING CLASS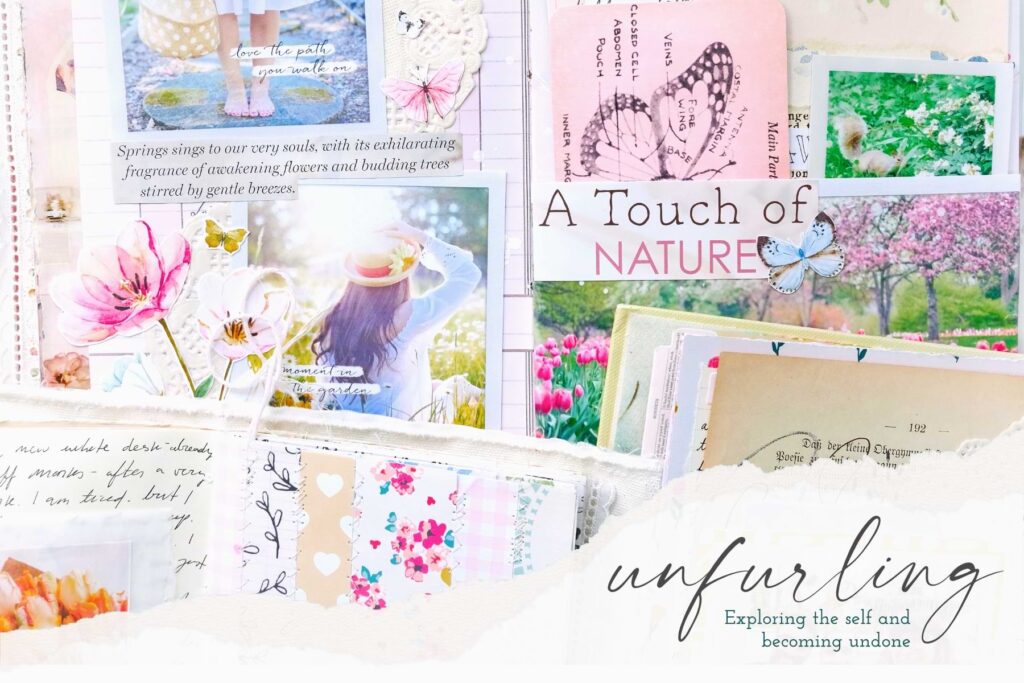 Are you ready to unfurl in the best, most creative way possible?
If you are, sign up today!
This is a self-paced online class with immediate lifetime access.
Unfurling is the gentle act of exploring the self and becoming undone. It is a long-term process of inner excavation for self-exploration and personal growth. We are never done unfurling. The more we look deeper into ourselves, the more that is revealed to us. In this course, we will keep a creative journal where we will document all of the little epipha-mes we discover about ourselves through a creative unfurling process.
If you're anything like me, you have trouble keeping a personal journal detailing every nuance of yourself and your life. Simple pen to paper just never works for you. As hard as you try to keep a daily habit of journaling, it just never sticks. I have found that translating this daily process of journaling about myself into a creative one really has helped me get deeper into my journal.
In this course, I will guide you through starting an unraveling journal and your own unfurling process. Together, we will explore ourselves through a multifaceted creative process. Combining art, photography, and creative journaling, I will share various art, journaling, and creative photography prompts to get you started with keeping a personal unraveling journal.
The class is broken down into 8 sections—in what I believe are the most important foundations of my unfurling process. I personally tend to unravel in my journal once a month—each month exploring a different theme. But in order to condense the process for this course, I've wrapped it all into these 8 sections. I do also provide you with the option of following the course for an entire year with a dedicated prompt list for each month.
All the content is ready and available to explore in the classroom. In each section, there will be an inspiration talk video where I share more about the theme of the section, one creative photography challenge, one printable PDF with a handful of journaling prompts to try out, and a look into my journal and how I go about documenting certain prompts.
Imagine a creative journey of inner excavation and self exploration…
A private course area with:
☆ 15 lessons spread out into 8 themed sections
☆ 50+ journaling and creative photography prompts
☆ 26 process and inspirational videos
☆ 1 digital class kit with printable paper and embellishments
☆ A 12-page PDF with the class prompts separated by theme and month
Plus tons of examples from my own personal journal to inspire you as well.
Hello. I'm Tiffany Julia. I'm an artist living in New York City with an absolute passion for documenting my life. I share my creations and inspirations through art, photographs, video, and journaling. I invite you to embark with me as I go on an inner excavation of self-exploration and personal growth—a heart journey I call a gentle unfurling. 
I have an unrestrained passion for many things and I often find myself longing for something greater than life. My hope is to inspire you to explore, create, grow, and share your story in a meaningful way. I'm so glad you are here.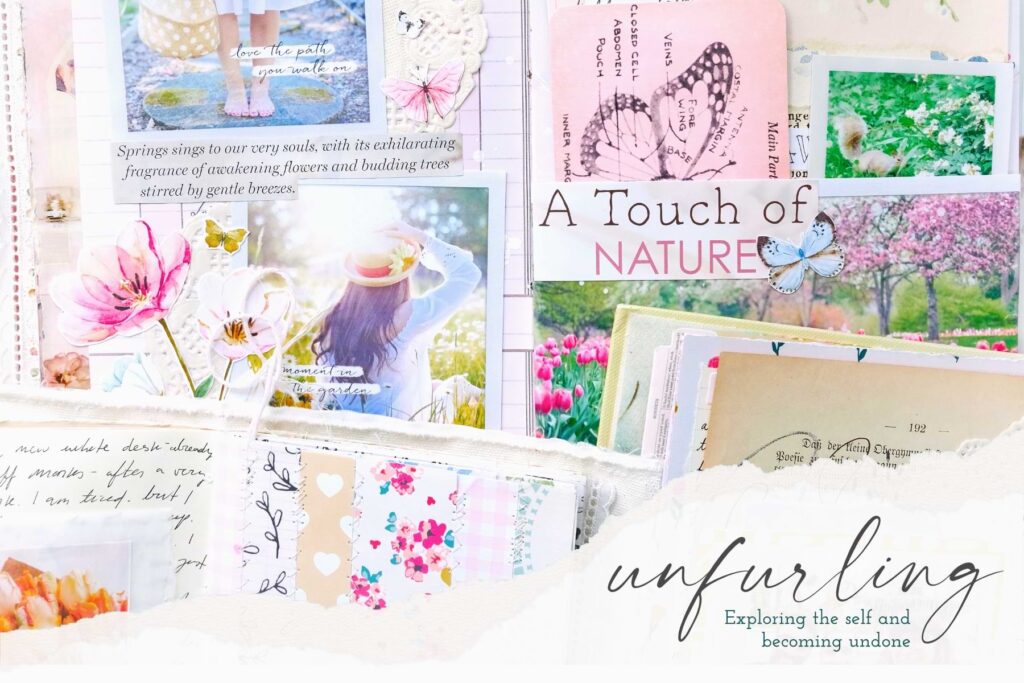 Are you ready to unfurl in the best, most creative way possible?
If you are, sign up today!
This is a self-paced online class with immediate lifetime access.
I'VE NEVER JOURNALED BEFORE, IS THIS COURSE FOR ME?
This course is for all types of journalers–beginners, intermediates, and advanced. The beauty of journaling is that it can be whatever you want it to be. There are no right or wrong ways to journal. That said, this course is not an introduction to journaling, but an introduction to my personal creative unraveling process, a gentle unfurling.
WHAT SUPPLIES DO I NEED FOR THE COURSE?
There will be an entire lesson on gathering supplies. But basic supplies needed for this course are: a journal, your choice of art supplies, papers, and ephemera, a camera, and a way to print your photos to include in your journal.
WHERE CAN I ACCESS THE COURSE?
After payment, the course will be added to your account dashboard under Courses.
You will also receive an email detailing how to access the course content from your My Account dashboard.
The entire course is available on the site, along with all the downloadable materials that you need.
HOW LONG DO I HAVE ACCESS TO THE COURSE?
Once enrolled, you have immediate access to the course content forever.
The course is broken down into 8 themed sections, with 3-4 lessons in each section. Included is a PDF with prompts for an entire year, so you can practice unfurling for a whole year.
This is a self-paced class, however, meaning once you have access to the course contents, you may begin and work on the class at whatever time, at whatever pace suits you.
WHAT IS YOUR REFUND POLICY?
Due to their digital nature, there are no refunds on any of my ecourses or ebooks.