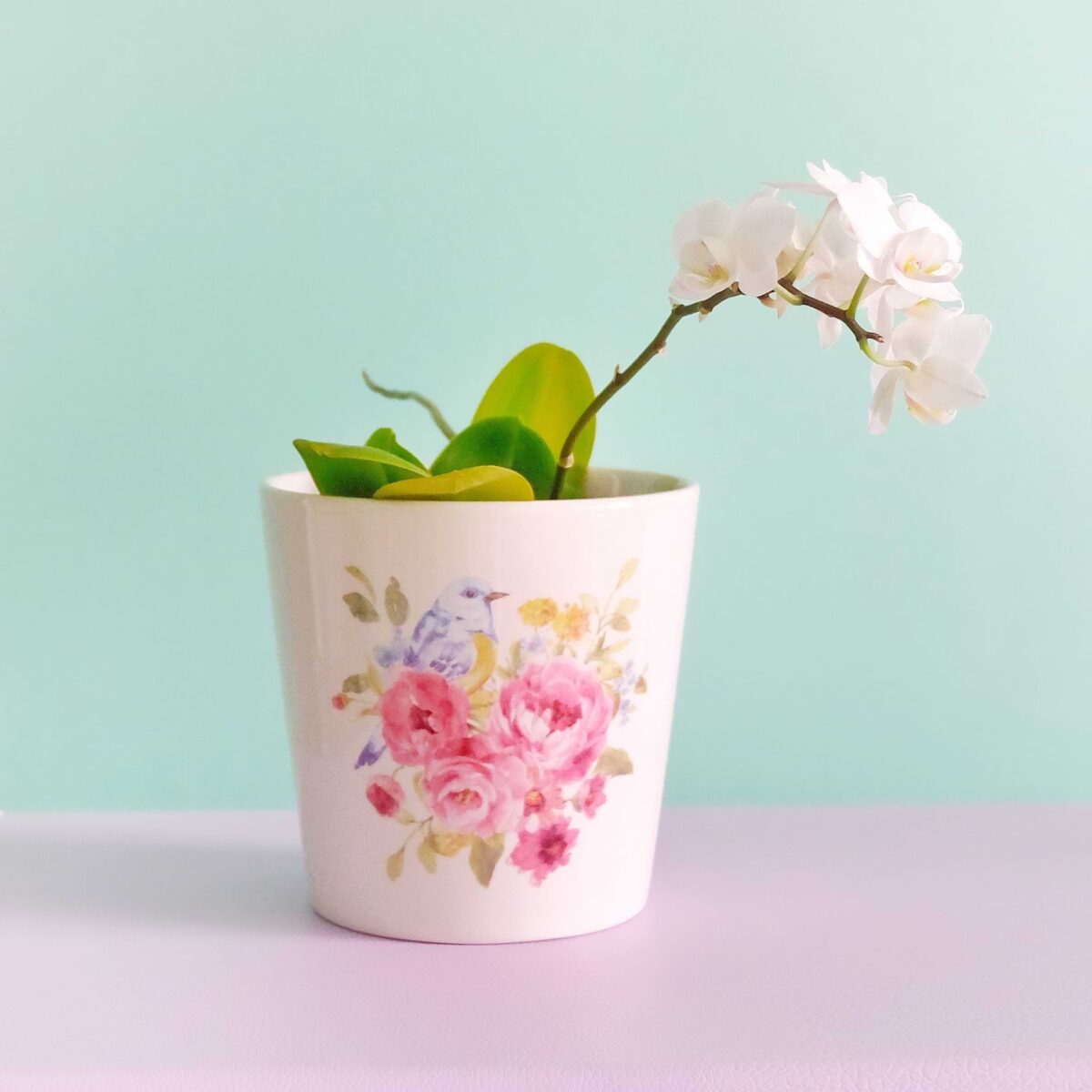 The Story of My Orchid
Hello Lovely.
Today I want to tell you a story about my white orchid plant.
My mom bought me this plant sometime back in late 2020/early 2021. She thought it was pretty and that it might brighten up my room. She got it from Whole Foods. It came in this tiny 4-inch pot and all it was was a long stem with a couple of white blossoms sitting in a bed of two thick leaves. It was a tiny little thing.
I had it in that little pot for a bit before it died. All of the little white blossoms fell off and soon the long stem turned brown. By late 2021, it was merely a plant of thick green leaves.
I eventually repotted it into a bigger pot and clipped the dead stem. I figured that while the flower died, I could still enjoy having a leafy plant. I knew absolutely nothing about plants, so I honestly didn't know what I was doing. I had resigned to the belief that this little orchid plant will never bloom again. So I moved the pot to my windowsill and continued to forget to water it, so it only got watered once every two weeks.
My orchid was dormant for all of 2022. If you know about My Heart Journey, you'd know that I was emotionally struggling throughout all of 2022. My partner at the time had completely abandoned our 1-year relationship and failed to communicate that with me. No formal breakup or anything. He took advantage of his job that had him traveling a lot and simply stopped speaking to me. I received no answers to any of my texts, voice messages, emails, or letters. It was like he died, yet he was very much still alive.
Something broke within me and I was just devastated. It felt very much like a death and I found myself grieving. I was also lost and confused because none of it made sense. yet the only person who could help me make sense of it refused to talk to me, so I was truly alone. And all this time, my little orchid was there, bare and dormant.
I can't possibly say when my orchid began to bloom again. It seems like it happened overnight. Sometime in late December of 2022, I looked up at the orchid on my windowsill and noticed it had a new stem. Then a few days later it had a few buds. Then a few days after that it had begun to bloom. By mid-January of this year, it looked as if it had never died at all.
And I'm taking that as a sign.
I am taking it as a sign from the Universe that there are better days ahead. That maybe 2023 is my year—my year to heal, to unravel, and to grow.
Orchids are apparently notoriously hard to take care of, so all the more reasons why I see this as a sign.
I've been learning about manifestation from Gabby Bernstein and applied astrology from Debra Silverman, and I've learned two things that also support this as my sign.
The first bit comes from the stars. During a free 2023 Astrological Forecast live Zoom call she gave late December 2022, Debra shared forecasts for each of the 12 signs. She began with Aries—the first sign of the Zodiac—which happens to be my sign. She said:
"Aries has free flying energy in 2023."
Because Jupiter is now positioned in the sign of Aries, Aries (and other Fire signs Leo, Sagittarius, and its opposite sign Libra) will feel its good fortune. (I happen to be an Aries Sun, Leo Moon, Libra Rising, so…) This year's eclipse theme is also Fire/Air because the eclipses will happen within either Aries (Fire) or Libra (Air). (There's a whole lot of other stuff too happening, but to sum it all up, 2023 will be a good year for Aries to take advantage of.)
The second bit comes from my own personal desires.
At the beginning of this year, Gabby Bernstein offered her 21-day Manifestation Challenge. I decided to take it because I've been curious about manifestation and the Law of Attraction. In the challenge, Gabby basically teaches you practices and exercises you can use to feel good, amp up your vibrations, and have faith that the Universe has your back. In the challenge she had you state your desire (what you want to manifest) and do all of these practices to support that. But ultimately you must feel good and have faith that the Universe will provide you with what you desire or something better.
I will be candid here and say that what I desire is to be in a loving relationship with what I've been referring to as Ben 2.0 (my ex's name btw) or something better. Because as much as what he did to me was really shitty, he does possess qualities in a partner that I so admired. And the 2.0 is clearly the indicator that I want the better version of him, or again, something better. And while I clearly specified this as my desire statement, I feel deep inside that what I'm also asking for is to move on from this heartbreak I have into that something better.
And that's why my word for the year is HEART.
Because whether it's to heal my broken heart and rediscover my own joy again or if it's to love someone new who's actually worthy of my love, all of it is represented by the heart.
So when Gabby asked us to choose a sign—a visual that the Universe could use to show you that you're on the right path and that your manifestations are near—I chose a heart. Seeing hearts is what I wrote. And while I didn't see hearts right away, they did eventually show up for me.
My white orchid is not a heart.
But what my white orchids is, is an emblem of love and beauty.
Orchids symbolize love and if that's not a sign, then I don't know what is! It's commonly the white orchid that is most associated with weddings because it also symbolizes purity. Purity for me in the context of my story means a clean slate; a fresh start.
Interestingly enough, white orchids also represent faith. And at the very core of manifestation is the ability to have faith in the Universe that it will bring you your deepest desires or something better.
So I've just been seeing a lot of little connections like these pop up all around me. Even scrolling through Instagram today, I came upon one of those video posts asking you to take screenshots of the quickly moving video to capture your word or theme for the year. This one post said to close your eyes and take three screenshots. Whatever you get is what 2023 will bring to you.
The words I received were ROMANCE, COMMUNITY, and RELATIONSHIP.
I dare say it, but I think the Universe is listening.
xx Tiffany